Chicago Pool Builder Barrington Swimming pools Discovered Not Responsible of Dumping Hazardous Waste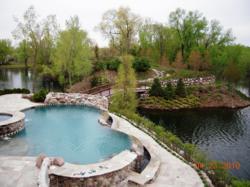 We're excited to have this behind us and get back to focus on what we do best – building some of the best custom pools in the U.S.
Barrington, IL (PRWEB)
May 25, 2011
Custom Pool Builder Barrington Pools and all of its employees are pleased to inform the public that on May 10, 2011 Messrs. Dale Overson, Louise Donaghuah, and Barrington Pools were found not guilty of knowingly disposing of hazardous waste with flushing water from a cleaning process for pool filters using a cleaning agent commonly used in the pool industry, hydrochloric acid. The claim that hazardous waste was deliberately thrown on the ground by employees of the company proved to be unfounded.
The case arose out of an anonymous complaint filed by former employees with the Illinois Environmental Protection Agency in March 2010, which made a series of allegations that were found to be unfounded upon review by the Illinois EPA. The evidence in the trial showed that there was a system in place to neutralize the hydrochloric acid used to aid the cleaning process. Additional evidence was presented at the hearing that Barrington Pools voluntarily submitted plans to improve the cleaning process to the Illinois EPA and now has approval for the process from the Illinois EPA.
Barrington Pools has been a member of the Barrington Community for over 20 years. Barrington Pools and its staff will continue to be the best neighbors they can.
Michael Murillo, Barrington Pools Sales Director, said, "We're delighted that this is behind us and we can get back to focusing on what we do best – building some of the best custom pools in the US."
The People Against Barrington Pools, Inc., Dale Overson and Louise Donahue appeared in the Circuit Court of Cook County, Illinois, Third District, in Rolling Meadows, Illinois. Case number 10CR16873. The judge was Thomas Fecarotta.
About Barrington Pools:
The Barrington Pools design and construction process provides outdoor living options tailored to customer needs for homeowners who require the best quality and technology in luxury swimming pools, spas, patios and landscapes. Barrington Pools turnkey design and construction services are supported by post-installation maintenance plans. Please visit us at http://www.barrington-pools.com for more information.
###
Share articles on social media or via email: